01.05.10
The Minerva Project – a brighter future for prisoners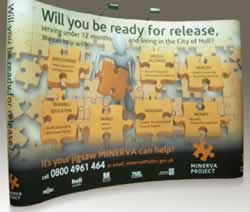 Following the launch of the Minerva Project at HMP Hull, 65 prisoners have registered to join a scheme designed to help persons serving less than 12 month prison sentences to stop re-offending once they are released.
Innovative Graphics were tasked with creating an identity for the Minerva Project which could be applied across stationery, leaflets, posters, exhibition systems and merchandising items such as pens, mugs, key fobs and diaries.
Several approaches were considered before the jigsaw piece 9 (representing the challenge of fitting back into society) was chosen to front the project.
Specially commissioned 3D illustrations were used on the leaflet, poster and exhibition systems to help get the message across with a robotic figure used to overcome the issues of race, gender, faith etc.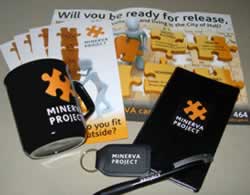 Keeping people out of prison can have a huge impact on the local community and potentially save the local authorities expenditure that could be used to fund other equally pressing problems.
If the Minerva Project proves successful it is hoped the concept will be rolled out nationwide.
If you would like to discuss how we could help your company make an impact contact Frank or Brian on 01482 326000