01.09.14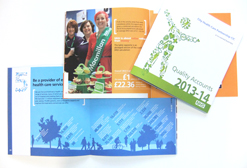 City Health Care Partnerships Reports...
Innovative Graphics have just delivered the last of three reports for City Health Care Partnership CIC. Each report (Social Accounts, Quality Accounts and Annual Report) were won through a tender process and involved a creative proposal, artworks and print handling.

CHCP CIC is an independent 'for better profit' co-owned business providing community health and integrated social care services to over half a million local people in Hull, the East Riding of Yorkshire and Knowsley, Merseyside. The reports highlight and review the organisations achievements during the past year.

Digital versions of the full reports can be found on their website